Joe B. Ardourel
March 29, 1931 – April 28, 2015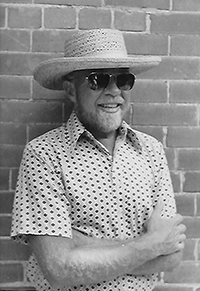 Born in Boulder, and educated in the Boulder Public Schools, Joe graduated from Boulder High School in 1949. While attending the University of Colorado, Joe was inducted into Sumalia and Heart and Dagger honor societies, was a member of Sigma Chi fraternity, and was an editor-in-chief of The Coloradan yearbook. After receiving his BA in Journalism in 1953, Joe served two years as a second lieutenant in the US Army Intelligence Service. Following his discharge from the army, Joe continued his higher education and received an MA in Journalism from Syracuse University, an MA in English Literature from the University of Colorado, and an MA in English Literature from the University of California, Berkeley.
In 1962, Joe returned to Boulder, Colorado where he began his career as an artist, specializing in woodcuts and serigraphs. Other than a few elective art courses in high school and college, Joe was largely self-taught. Spanning 19 years, his professional output ranged from the Quena Player (1964) to the San Luis Obispo Mission (1983). He primarily created woodcuts and serigraphs (silkscreens) but he also produced linocuts, collocuts, and vacuforms.
Among the public collections including his work are the Brooklyn Museum, the Smithsonian Institution, the Dallas Museum of Fine Art, The Boston Public Library, The Cincinnati Art Museum, and the US State Department. He was elected to membership in two prestigious graphics organizations: the Society of American Graphic Artists and the Audubon Artists, both of New York City.
Joe was descended from a long line of early settlers in Boulder County. His mother's ancestors, the Fabrizios, settled in Louisville, Colorado, in the late 1800s. The Ardourel family home in Boulder on Highland Avenue, built by his grandfather Theophile ("Joe") Ardourel, is listed in the Boulder historical houses registry.
Joe Ardourel was a man of exceptional talent. Formally educated as a writer and self-taught as an artist, he was a man of the arts and enjoyed them as well. Joe attended the opera from local productions to the Metropolitan Opera in New York City; and, later in life, could be found enjoying the broadcast of a production on television.
Visually, Joe created great art for 20 years. During this time, he developed a great skill in renovating the homes he lived in and made art of his living space, especially the Carriage House in Boulder. Many in Florida admired his final home for its great landscaping.
Joe had many faithful canine companions over the years ranging from his basset hound "Mister" to his dachshunds "Nadia" and "Rex".